Quote:
Originally Posted by
chill622
What happened to KaptinKaos and his build reports? I enjoyed the story so far.
Hey hey!
No, I haven't disappeared off the planet... lol! But... Work has been intense of late and I have been in the field more than I'd like. With Baja in Dec approaching super fast I've been prepping my 450 and ironing out details like a madman in every spare minute I have away from the field. 4 days at home in 90 is tough to plan anything, :( I also had my tussle with the 990 and she won, big time. A little over two months ago I had a gnarly high side which ended up in a broken left kneecap, separated shoulder, chipped pelvis and a majorly wounded pride. I didn't let it get me down long though... was back on 2 wheels less than 2 weeks after doing this:
(Wasn't gonna let a little silly pain slow me down and keep me from training)
Snow is also flying here and I just barely squeaked a test flight in on the 450 once I had the sea level jetting done and everything else on the bike ready. Here it as it sits now waiting to be strapped into a trailer alongside it's riding mate, a WR450, :)
Unfortunately right now the 990 is being used as a side shelf while I sort out gear, lol! Space is limited in my little tiny shop of horrors so I do what I need to.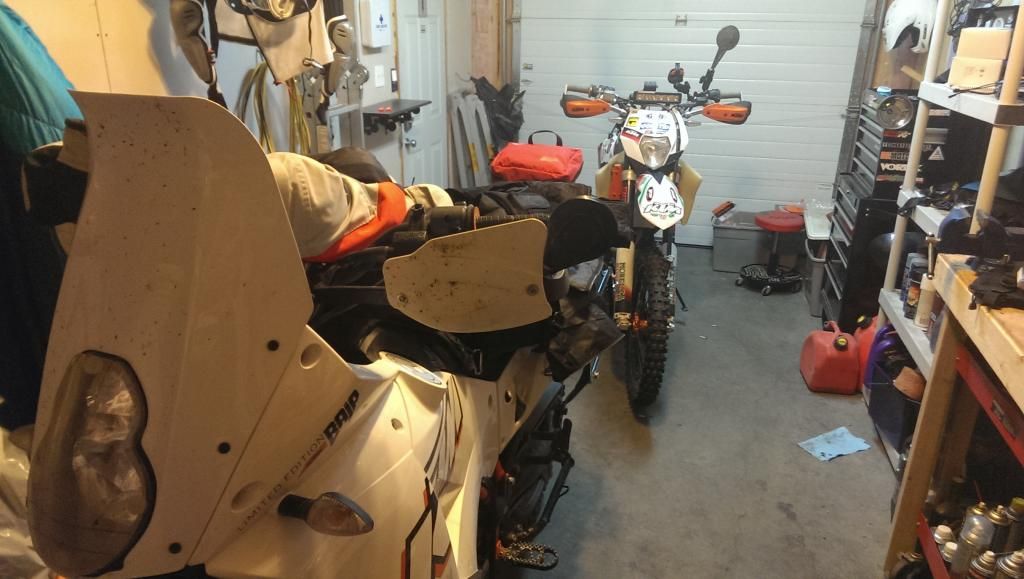 I did get my TF5 screen from Warren and man, I love it!!! It is as good/better than a Moose because I get a lot less wind on my chest now and still no buffeting.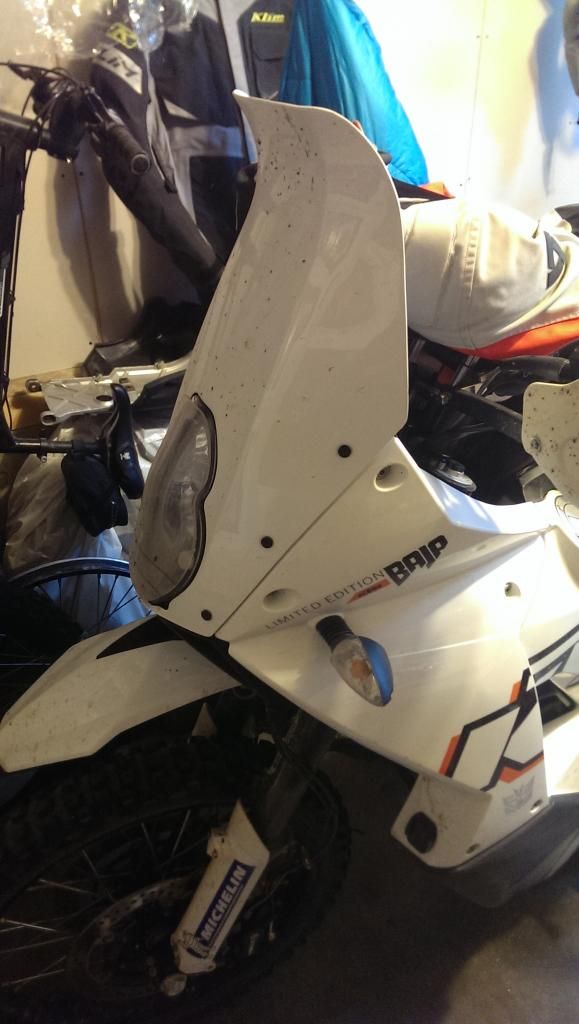 Don't worry too much about the 990 beiing abused as a sorting bench either... This trip to Baja is a recon ride with a buddy in further prep for a full on trip down there on big bikes. A winter get-away/holiday/recon all in one. A sorely needed holiday I might add... The 450 does have it's own thread, but I haven't been keeping that up either... I think we might make an attempt at doing a RR, but I doubt it. Too much going on for both of us. I will post my tracking page for my SPOT if anyone is interested in where we'll be down there though.
http://share.findmespot.com/shared/f...S4lVV3smZ6znyr
Cheers!!!