I only knew Terry Gahl for the final 3 years of his life. But, he made a big impact on me. I met him through riding motorcycles. He was one of those guys who had an infectious optimism about life and adventures. From the time I first met him, he was battling prostate cancer. I didn't realize until near the end, how serioius his stage of cancer was, because of the way he carried on with life.
Terry always had many interests. He was a polevaulter at Ga. Tech in the early 70's and raced motocross all through the 70's and 80's. In his early years he worked both for motorcycle dealerships and for motorcycle manufacturers. He also played Hockey in open Men's leagues till he was in his mid 50's. He rebuilt old Lotus sports cars and spent many years with Hewlett Packard as a well respected project leader. He was a true renaissance man.
On Terry's last big adventure in August of 2005, we rode dual sported dirt bikes all around Southwestern Colorado. On that trip, I injured myself by crushing my foot. I came close to losing it for several weeks. The Doctors out there said I couldn't fly because the changes in pressure and altitude would make my foot worse. Terry volunteered to drive me back from Colorado to Atlanta, with me riding in the back of a rental car with my foot propped up. Incredibly selfless! I didn't realize at the time how much pain he was dealing with during that ride. He had to stop every hour to go to the restroom and stand up to deal with the pain. But, he really wanted to do it. Later, i felt like a sissy for feeling worried about my injury, compared to what he was going through. But, through his optimism, he hid it well.
One of Terry's big dreams was to open a motorcycle dealership. He wanted to open one that was really special. A place where motorcyclists wanted to come hang out - Near the foot of the North Georgia Mountains, and always playing good music. He envisioned a section of vintage bikes to look at (one of his loves) and comfortable seating areas for motorcyclists. But, he knew with his illness, that he would have trouble fulfilling his vision alone. He put the word out to our group of friends that he had the vision and the plan, but he needed a good partner to help him see it through. One of our good buddies, Keith Allen, had recently sold another business and was looking for something to do. The vision hit him and he and Terry decided to work together to start their dealership. The guy, Dennis Powell, who helped put Terry and Keith together, met Terry on a Motocross race starting line in the 70's. He is also a partner in the business.
With Terry's planning skills and research, and Keith's execution and drive, they were able to obtain the dealership rights for Yamaha, Suzuki and later Triumph. Terry was able to see his vision unfold and the business was built and was already breaking sales records, before he passed away in October of 2007. He was very proud of the dealership.
So if you ever see me plugging Moto 400
www.moto400.com
on this site, please forgive me and know that my appreciation of that place runs deep. To me it's much more than a great dealership. It's a special place and the legacy of a great friend. His daugther Aimee and his son Hunter are also very involved there.
Some pics:
Terry's last big adventure ride - On a high pass near Ouray Colorado. Terry is second from the left, kneeling giving the hang loose sign.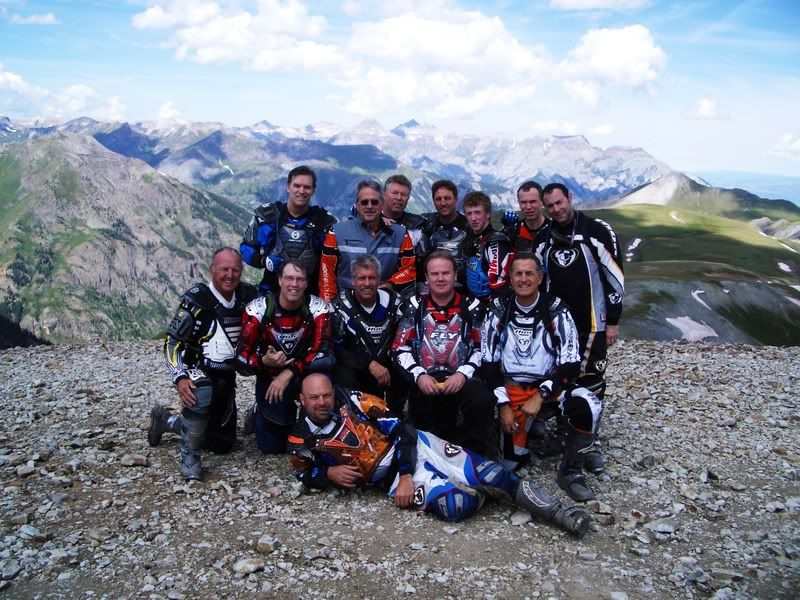 Me in the backseat of a rental car with my foot propped up, heading across New Mexico. If you notice the nervous smile, it's because Terry was going near 90 mph and turned around to take the shot. He said I was a terrible back seat driver. We had a fun journey under the circumstances and he was more worried about me than about himself.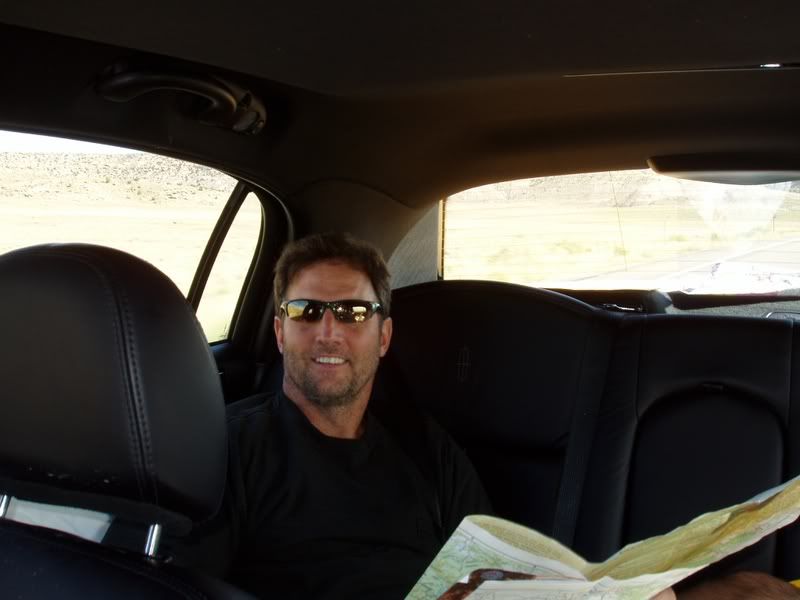 New Mexico at 90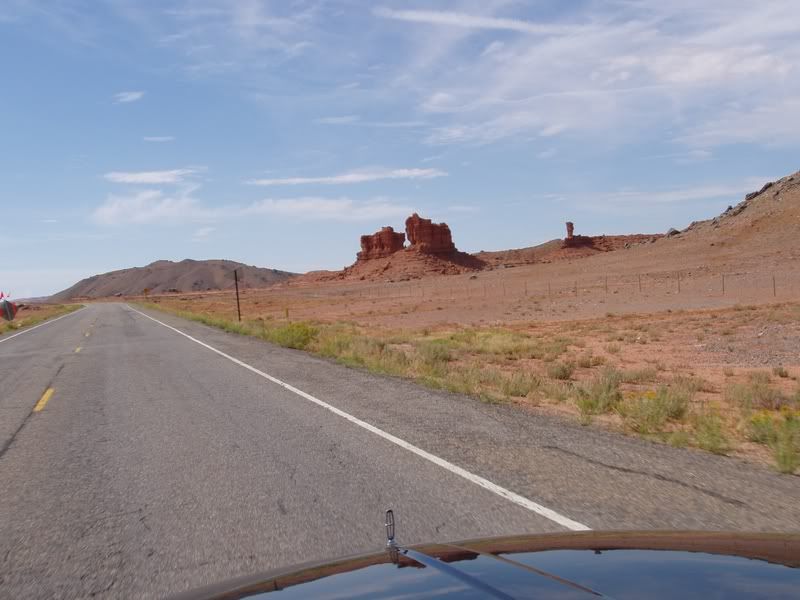 Terry in front of the Moto 400 site after they broke ground. It was a very proud moment for him