You'll find out a little later as to why the title.
This was to be our first "real" adventure ride. Nothing too hard but plenty of dirt roads and a bit of exploring new places we'd never seen.
With the anticipation of riding the new 1190 and spending the weekend with my Wife of 27 years, I woke early........ A little too early. It was 10.38pm. I'd had 2 hrs sleep but that wasn't going to be enough. I fell asleep again and woke at a more respectable 4.00am ish.
I needed some luggage. My panniers haven't arrived and if KTM are true to form of previous years, they're probably still 1 or 2 years away.
Bev had the idea of zip tying an old cut down ventura rack to the adv.
I rolled my eyes and let her do her thing with the rack, knowing full well I'd be holding a suitcase in my left hand for the trip.
Of course being a Wife, it worked and worked well. Lesson learned. Never underestimate the power of the zip tie or your Wife.
Day 1 was a blast.
We had done some hard packed, bitumen smooth sand a couple of months earlier which the Tiger and Bev were at home on.
It started a little gnarlier than that and got worse in places.
I stayed in Scala Rider shot most of the time to make sure everything was fine with Bev. All the while the Adv just eating up the dirt and me giving no consideration to my "hard packed sand" Adventure riding Wife on her Stiffly sprung, road tyre wearing road bike.
I must say. I was pretty proud of her.
We happened across a nice grassy area. There were some campers beside the river. A spot of grass after all the dirt. Nice and smooth.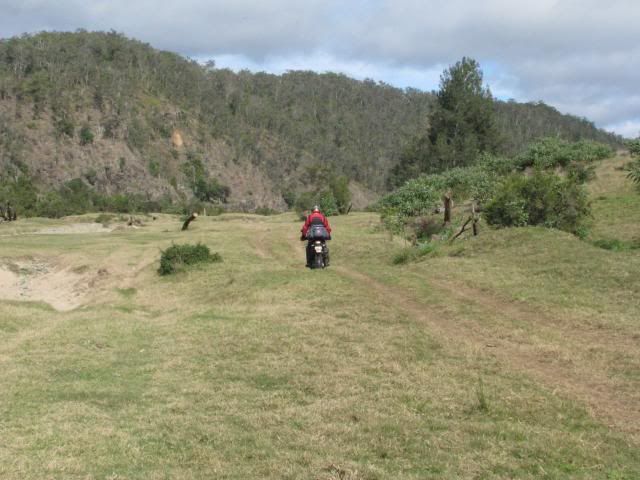 And back on the dirt. I wondered how many other riders discovered this type of riding entering their 50's.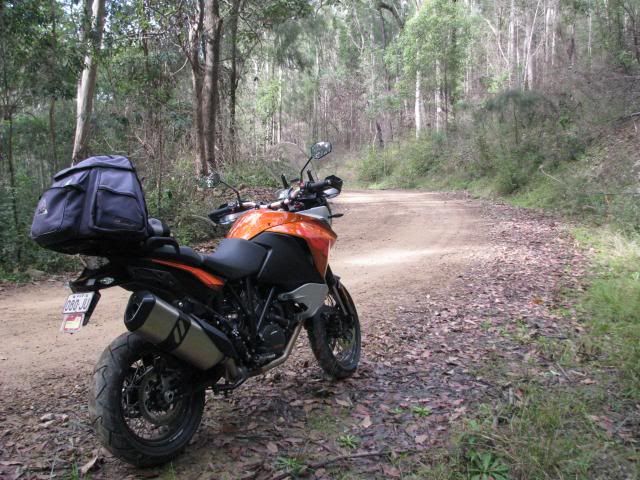 The end of the dirt for one day. Had a quick chat to this guy. His Wife was a bit behind.
Our camp site was just 50km away. We stopped for a warm beverage and some nice lard cake. Mmmmm.
We made it to camp. That's what us hard core adventure types call it.
It was a good camp site with a spa, a king size bed and it's own restaurant.
We dined on dead chicken and pig. Very nice.
Watching "The Marine" on cable tv was enough to send me into a deep 10hr sleep. Just as well. We were doing it all again today.
We had decided the night before to go a different way home. Only this time, the route was taken from a map reminiscent of a badly scribbled napkin but I thought I had it all in hand.
The bitumen gave out after a km or so. God had chosen to make this a dumping ground for all his left over rocks. We travelled maybe 15km.
I had Bev in my ear with disapproval of our route.
Being the inconsiderate bastard Husband I am. We kept going until.....
"I'm not going up there" filled my ear drums. I had to concede. The bad road had turned into a bouldery track.
My next mistake was to turn down another road that I thought might lead us in the right direction. It was made up entirely of small river stones.
I was 2 or 300 mtrs down and heard the desperate voice of my Wife laying her bike down on the turn. DAMN THOSE PILOT ROADS! I was doomed.
Bev was fine and the bike was amazingly almost unscathed. Just a few very minor scratches.
She was in no mood for a picture though.
Do you believe in Karma? I think I do.
We were back on the black stuff about three hours from home.
The ktm low tyre pressure warning thing started flashing.
I got the word from behind the tyre was still up. There was a rest stop just ahead. Upon inspection the tyre was deflating and needed to be repaired.
No problems. We had a repair kit with 3 CO2 canisters left. It had been used once before.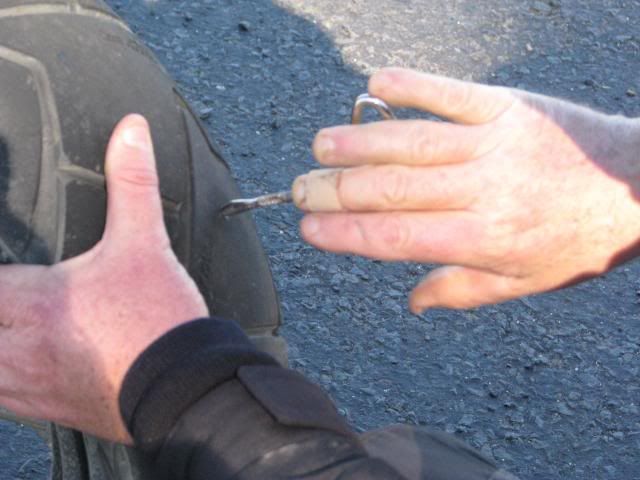 Oops. We were in trouble. The glue tube was empty. Bev suggested just jamming the plug in and see if it holds air. I'd been wrong too many times on this trip to argue and proceeded to jam. We had nothing to lose.
The first canister blew directly away from the valve stem. As did the second. I was inventing swear words under my breath by now.
The third and final one managed only about 10psi. I had air in the tyre.
Hopefully it would stay up till the next town 60km away.
By some miracle, it did. It inflated the tyre to 26psi. Didn't want to risk blowing out the plug and bought a foot pump from the Crazy discount bargain wholesale 2 dollar shop for $7.99.
The tyre is a bit worse for wear but got me home with 1036km on the clock. Perfect timing for it's first service and 1000km tyre change.
We had our ups. We had our downs. An adventure it was and we wouldn't have changed any of it. (we, meaning me) Bev would change the falling off bit. I really am proud to be married to such an accommodating chick.
Ready for a wash.