So who is ice bear.. he is a finger puppet my wife had gotten in a pack of finger puppets for my 16 month old daughter. She suggested I took one of them and when i had cell service i could text her a picture or 2 from the days ride for her and my daughter to look at. I worked out pretty well and she was very excited to pic out me and the bear in the pictures i sent. Ok and me well after a few years of ending up on back roads, dirt roads and beaches with my gsxr i decided it was time to find something more suited to those riding locals. So after spending time reading RR on adv especially Kedgi's lobsters to lamas my wife suggested i just get a bike and try it out. In mid october i found a 07 f650 dakar for the right price in Montreal. So i contacted the seller and assured him i wasn't the prince of Zimbabwe wanting to buy his bike lol. I did a fly and ride last fall. over the winter i picked up some bits the bike needed givi trunk off kijiji and a set of panniers from Fred Green. Some things from other inmates here. This is my first RR and I am by no means a photographer.. please be kind as a trip like this sometimes is as far from home as some of us can travel while we dream about riding in distance lands.
so the bike... is packed and ready to roll to the night crossing to the rock
We got into North Sydney with about a hour wait to load onto the Blue Puttees... would we make it out of port or run aground I wasn't sure but i knew I had a full bellie from a meal at lick a chick :). While waiting an older man approached me and struck up a conversation on where i was going and what not. He did the trip many years ago when his family was young by car and more ferries of course back then of course. He had an old 60's ducati when he was young and he shared a few stories. It past the time in the parking lot as we waited to load onto the ferry.
we got the bike lashed down and headed up to the big comfy chairs. it seemed like the bear and i had bonded already and thoughts of Tom Hanks and Wilson the ball came to my mind.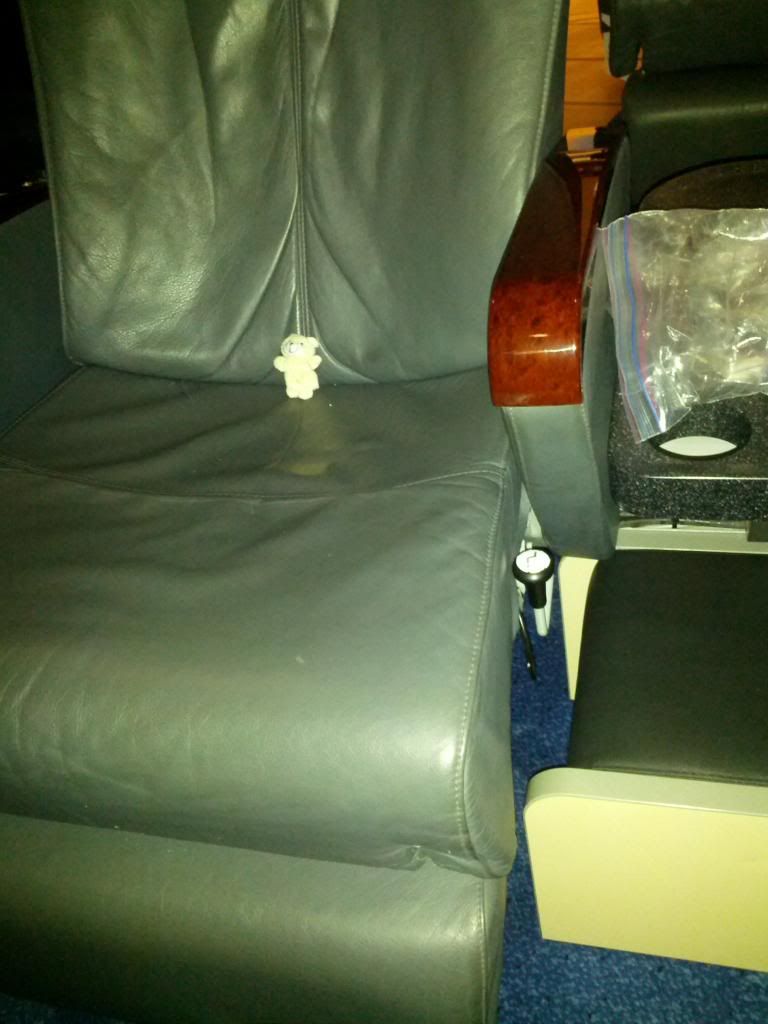 It was a pretty calm crossing and i got some sleep till the older gentleman behind me started screaming ma!! ma!! behind me at around 4 am. I don't know what he was dreaming about but i think he may of had a mean mom. He got the evil eye later in the morning as i tossed and turned as much as one can in a big comfy chair the rest of the crossing.
The ride in Newfoundland was pretty easy going, i had only driven by car once before been to the rock but i work with a lot of people from Newfoundland and Labrador. So I knew i could kill a moose by putting some pepper on a rock... Then it happened my damn horse dropped right from under me! and i hadn't even yet made it onto any gravel I made it as far as Corner Brook.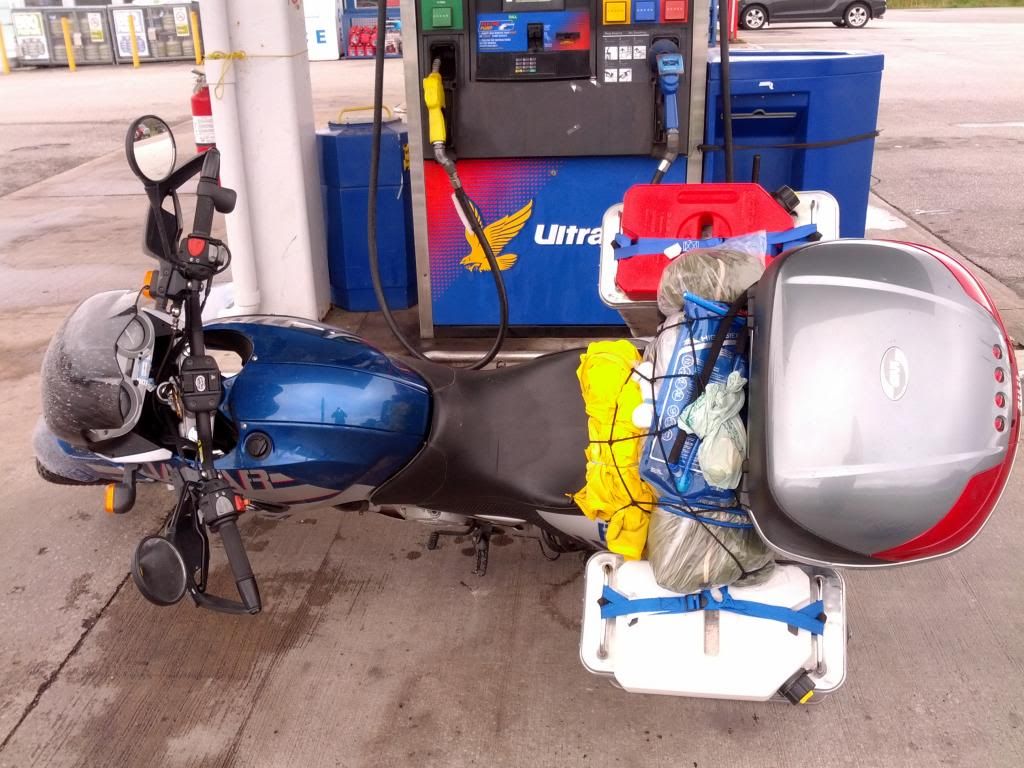 A nice man helped me pick it back up not the it is a very heavy bike. I think he was a bit confused that i had to take out my camera and take a picture of my bike laying on its side taking a nap. After getting the bike back up I topped up the tank for the next section. Then i seen the big moose on the side of the road and though maybe i should take a picture and hopefully it would be the only moose i see on the trip. As i pulled in the clocks died on the bike..
So I had read up on the bike a bit as i knew i wouldn't have access to a shop manual on my trip. i knew one of the fuses ran the instruments and the back lights. And after the little nap i was missing one of the lights on the tach.
yup it was a blown fuse. i had a spare in the fuse box but also took a couple of each size for the bike in my givi trunk. Riding alone i had to be self sufficient parts and tools wise. We where back on the road in no time and i was not worried to much as i had all day to make it to St barbe. I took a short stop in Deer Lake to get some food at a Dominion and had a chat with the gentleman that gets the carts. he warned me to be careful as he used to ride as a teen but nearly got killed when he was hit by a car and never road again. And it seems like everyone you talk to knows of someone that seen moose lots of moose on the road your planning to take. I know that meeting a moose on the road is a serious thing. I was excited to get on the road and ride threw Gros Morne
I took some other pictures but have not uploaded them.
After leaving the park i made my way up the coast, riding threw very small fishing towns. I am not sure some are even big enough to call a town. but i did see one cool think and snapped a few pics as the men works.
The continued to throw logs in front of the boat for it to roll up on as it was pulled out of the water. they had some cribbing ready to block the boat up but i didn't stay long enough to watch it all. Growing up in a fishing family I have seen more than enough boats hauled up or launched. funny thing is this one bares some resemblance to my fathers boat.. the boat i fished in with him all my teens and into my late 20's before i made a career change.
All the time I knew Gabrielle was coming up the eastern seaboard behind me. so I had to keep moving. My plan was to see l'anse aux meadows but i decided not to as the rain was going to hit the next day sometime. I really wanted to see the viking site but I knew that it would not be as enjoyable in a downpour. So i got a room at the ferry terminal for the night. It was almost dark and i had no plan of riding to St Anthony in the dark! that would be just asking for trouble spelled M O O S E!
While i unloaded the bike and brought the gear into the room i came in to find this!!
The next morning we got our ticket to the ferry as i had not reserved one. But before we checked out I put some stuff on my boots to help with the rain as they are not waterproof
We made our way down to the dock and waited.
i did get a bit nervous for some reason that i couldn't fathom why.. maybe it was the fact they used wooden ramps to make up the difference between the height of the dock ramp and the apollo ramp. Oh and ya the fact that there was no railing between the dock and the boat. I knew I was just irrational fear.. something I get from time to time about new things. Anyway I made it onto the boat without a dip in the drink.
So i snapped this picture and texted it to my wife and told her we had gotten in a heated argument over wether or not the crew would let us down on the bow to reinact the scene from titanic
The ferry crossing it was quite foggy and it would be my ride along the coast up to red bay. But at times there was a km or so of visibility.
The big land! i was here and the day was going well. The ride on asphalt was great it was a quick ride up to red bay. Now onto the gravel.. and to Port Hope Simpson. The road had lots of pot holes but i was able to pick my lines and avoid the worst of them. The start of playing hopscotch with 3 cars has begun back on the black top. I was surprised how fast some of the pickups where traveling on the road 100 plus. But the big rigs where going slower threw the bumpy sections and i had to pass one guy. Half way to Port Hope Simpson i stopped to take another picture of a boat and who pulls in for a break but 2 of the cars i had been riding with.
They where returning from St John's with the 69 4 door caprice that he had gotten from his brother. we talked for a bit then the left ahead of me. I would pass them again a couple times and they would pass me as well, each time slowing so they or I could get the thumbs up that we where ok. I got to Port hope simpson and was planing on that being my stop for the day but it was hardly 3 and i had the urge to ride. I like to ride and ride and see the sights. Usually i take no pictures just mental ones for myself when i ride but since my wife was home i had to take some for her and also a good friend had been given a nice camera that his friend took to south america on his klr and back and he insisted i take it as he had gotten a better camera since. he also told me i better have a hundred pics for him to see because he would love to been on the trip with me. While getting fuel in port hope simpson the other couple i would see time and time again where getting lots of gas as they where pushing right to lab city that night. he figured he be home in over 12 more hours. Also he was behind me when i passed the big rig and told me that not long after that truck lost his moose rack. he literally shook it off the front of the truck and ended up leaving it on the side of the road. I was glad not to been stuck behind him for that fiasco. Ok so here comes what some would thing was a stupid choice on my part but i felt good and wanted to press on knowing that i would be traveling with others on the 401 km of gravel ahead. the 650 sips fuel if you dont roll the throttle to much and try to run a somewhat constant pace.. but i didn't know if i would do the complete leg on a tank of fuel. But i was carrying a extra gallon of fuel in a rotopak. So onwards into stupidity lol
yup i get the thumbs up we are full on fuel
The ride in the daylight was great and i made pretty good time and stopped a couple times to take a pic or 2
oh I forgot to say I left my tires at street pressure up to Port Hope Simpson and atleast another 100 km or past then i hit a spot that was actually muddy and greasy at the bottom of the hill. I seen the mess from the top and slowed down to 30 or so but still i ended up jumping from rut to rut and pothole to pothole for 20 feet or so. Now i knew it was time to get off and lower the pressure to get better traction and make the bike just want to go straight. While I was doing this the 69 chevy went by this time because i was down by the tires he stopped and asked if I was ok. I explained what I was up to and this would be the last time i see him till the old 69 gets left on the side of the 510 with only a short haul left to goosebay. ok back on track here so with the pressure down i was able to run fast on this section that had more standing water and greasy spots. In the worst sections i had to slow down as i have dumped one bike before. it was only a honda 125 in the back yard and i landed on my shoulder.. although i never broke anything i went to emerg for a check up and had the pleasure of asking for help to put on my work uniform for a few days and not using my right arm really. this was not something i wanted to do a few 100 km from civilization. oh ya the pic
As the day went on and the sun was fading fast i still had only covered 250 or so on my trip meter leaving me with a good stretch to go. I had added some extra light to the bike the week before so night riding wasnt going to worry me as if i kept a nice pace i could hit goose bay in 3 hours or so. So i thought then the mist started again. Not enough to bead and roll off the visor so i was constantly wiping the visor. now the sun was gone and it was time to slow the pace. Which brings the problem with the fender on the dakar, between 30 and 70 the bits of mud, small rocks and water that flicks off the tire and ahead of the bike comes right back at the headlight and you. now the visor is getting dirty and the headlight to. I have to stop every 20-30 km to clean them. With what? Well i had my water bladder in a cargo net on the tend so i would take a mouth full of water then spit on the headlight and then on my hand and rub the visor. Now i was getting closer i could feel it and a warm bed would be nice.. but i could stop at anytime and tent it. but i decide to press on as i would rather have a room even for a few hours. I almost rode off the road once not due to my riding but the moron with 8 hella lights on the grill and roll bar on his pickup. I seen a light off in the woods miles away. was it a camp I thought to myself as i moved it seemed to move to. Like a glowing forest spirit making its way threw the woods. well when finally we got onto t straight run i could tell it was a truck. but there was many ups and downs in the road before we would meet. Every time I did meet a vehicle i slowed down and tried to look away following the my shoulder of the road. There was one hill left between us so i flicked high to low to high to low so he would see the light in the trees and hopefully dim down his lights some. No joy i crested the hill doing about 30 as I knew he was coming only to be blinded even trying to focus on my side of the road. Hard on the brakes with out sliding the tires i came to a stop about 6 inches from the drop. phew I survived now to let the eyes adjust and move on cursing that moron in my helmet. Like i understand the need for big lights if you travel at night but really. The fuel light comes on just after the sign indicating 85 km to goosebay. well I know the bike can do 400km on a tank and i know i can do 30 km or more with the fuel light on. but i have never tested it to the point the engine dies.. so 35km out i decide i should stop while i have a running bike and get out the flashlight and fill up with the extra fuel I had been carrying. While fueling my friends in the van stop to see if I am ok. The conversation is short because they are heading to lab city and all. but it was nice that i knew someone was so close behind. I did make it into goose bay and got fuel before i crashed for the night at the Inn.
I unloaded the bike and set stuff out to dry. Also snapped a few pics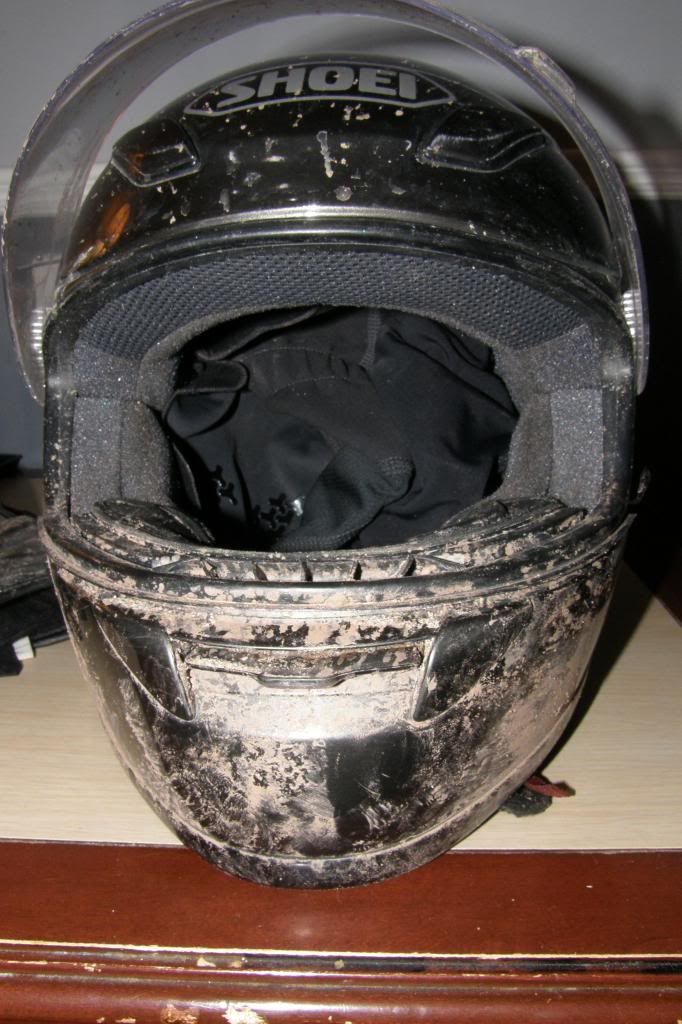 yes the beer was good... oh so good i had finished the 510.. the coffee was great in the am then it was time to look at the bike. oh the bike I had did some damage to it i just knew it.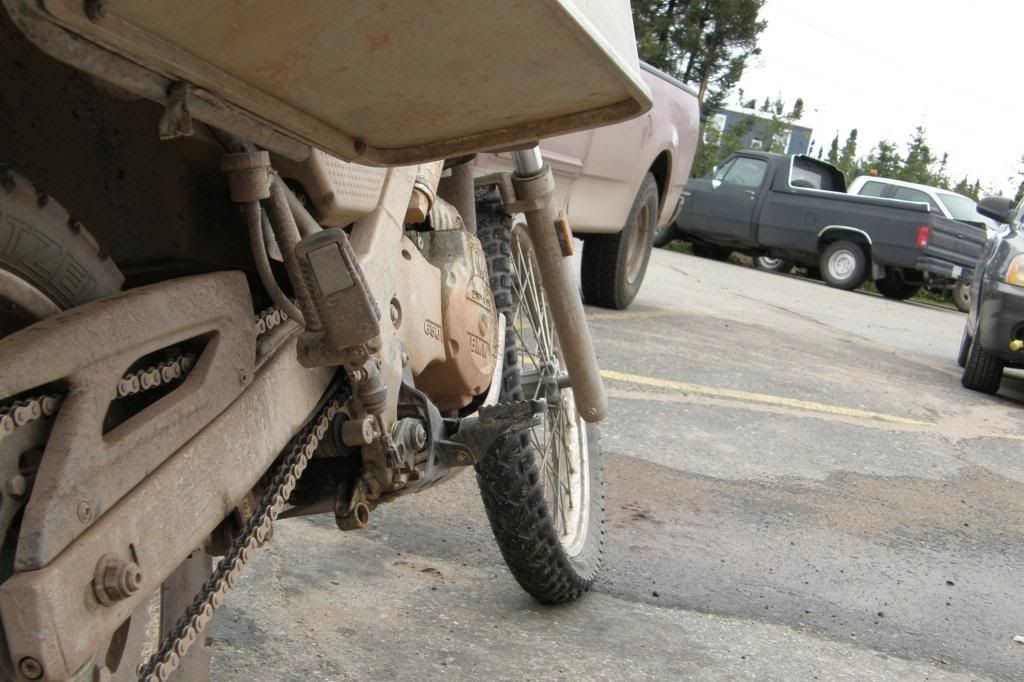 So what was wrong with the bike... well it had a bad smell when i pulled into goosebay.. and there was weird dirt/grime on the engine. the battery had been rattled so much that it shook some of the acid out and it dripped down on the head.. and i had checked it and hooked up the drain line before i left but the drain line was off.. and the rear shock was done so 40,000 km and the trans lab had taking away all its dampening ability. i texted the wife and she was like what are you gonna do and to that was clean the damn thing and ride it home. she was like of course thats what she would do.. she is a bit of a crazy biker too. i get the bike all packed up and go just down the road and ask in the hardware store if there is somewhere in town i could wash my bike. the lady was like no but sometimes the kids do car washes. then a lady came out of one of the rows to say i could use her garden hose as its still out. she gave me the address and told me the gas station has a airline outside. i ended up going the wrong way to find her street so i went to the gm dealer and they let me use the wash bay. i cleaned up the bike and was curious about the battery and a bit worried that maybe the rectifier took a crap and was boiling the battery not that i shook the shit out of it. so i took the body work off to take a look. the level was still well above the plates and it looked like i sprayed enough water to clean up any of the acid. so back on with the bodywork and off to Fermont. My plan was to camp in Kelsow's spot in Fermont but that was not going to work out.
on the way out of goose bay i stopped at the sign for a pic or 2
The ride to lab city was nice but i ended up leaving goosebay at 1pm after the cleaning of the bike me and my gear. I did stop a few times for pics and was amazed at how the trees where burned from the forest fires. I got fuel in churchill falls and pressed on for what I was planning to be Fermont.
The ride was great but the closer i got to Lab city I could see rain clouds hanging in the hills. I knew that is where I was going to end up.. under another rain cloud. And I did about 20 km from lab city on with the rain gear and the though that i drug a tent and camping gear with me and wasn't going to get to use it was sinking in. I got to Lab city and went to find food.. great the golden aches. 10 chicken nuggets later a gentleman sits across from me and strikes up a conversation. he is riding solo as well down from ontario. His plan was to leave Lab city at the crack of dawn and make it to a bit past red bay so he could get the ferry the next day. I told him how long it took me and i was doing the posted speed limit or better on hard top and gravel the last 2 days. He thought he should rethink his plan. he told me he made really good time on the gravel up from bae comeau. but everyone told me that road is so hard packed that its like riding on pavement. he was staying in the hotel and said it was expencive but when you are the only place in town i guess you set the rates.. he left just abit before me so was in his room by the time i got to the hotel. all along i was thinking he must have better tires then my half worn rear and quarter worn front metzelers sahara's. nope to my suprise its a gs1200 with street tires.. i had a sinking feeling in my gut that he was in for some long riding even if he could ride better than me.. remember up to this point I only did gravel on a gsxr. i planned for getting out this summer to get to know the dakar more but ended up with a flat... flat finger. In march i managed to get my right index finger crushed at the tip with the nail bed and all and 75 percent of the finger tip lacerated almost off. i will not share a pic of that as it was nasty but the xray shows enough. lol but i did go visit Fred Green to buy them panniers the day after the accident. But i knew by the september I would be good to ride.
In the morning I chatted with another gentleman loading his truck about the road down and he told me the worst part was where you had to keep crossing the tracks the other section of gravel was good traveling. We got to talking and he was beside the guy that filmed the waterbomber put out the transport truck that was on fire this summer.
http://www.youtube.com/watch?v=OW2lyxIz-z0
I wouldn't think of the gs1200 rider till i hit the really nice gravel that he told me he was going 90-100 on like i was on the 510 in the nice areas. I thought i hope he makes it ok back to ontario.
So not far out of Lab City I stopped at the PQ boarder.. took a few shots and texted one back to my wife asking do the PQ auto insurance issue bench warrents for unpaid insurance that they send to collections.. yes there is a story there. Remember the fly and ride to Montreal well apparently both seller and buyer have to go in to swap the title. the lady didnt speak much english and plated the bike to me in pq.. i just wanted to get the hell out of montreal and on the road to halifax that day. so now they keep telling me i owe them 92 dollars for april and mays insurance.. of this spring even though I sent back all the paper work the lady gave me apparently there was one thing i didnt send was the to them was the proof of registration in and insurance in nova scotia.. oh the french. ah well its just a waiting game for paperwork lol. ok back to the road! i had a blast cutting it up in all the twisties on gravel along the tracks and on the hard top all the way to Relais Gabriel and it showed 250 km and the fuel light came one just before the cafe'/gas station. The women working where super nice and I got fuel and a burger. And ate it fast as it was just before noon and i wanted to try and catch the 6 pm ferry to Matane.
this looks like a shot i seen from Kelsow from his ride this summer.
The gravel from then on was great till i met a road grader.. he had one opposite side of the road done and was about to turn around and mess up my nice hard smooth road so i got by before he got turned. I managed to go quite a while till i hit the point where he had done both sides of the road. I decided to slow down and but not stop to play with my tire pressure as i had it a good pressure for pavement and it felt good still on the gravel. It wasnt far before i was back on ungraded road and i could pick up the pace again. It seems like you just go down and down and up and down and down the rest of the way to well past all the manics. I did stop at manic 5 for a few pics.. seems that I thought it would be bigger from the pictures I had seen. But trust me it didn't fail to impress me.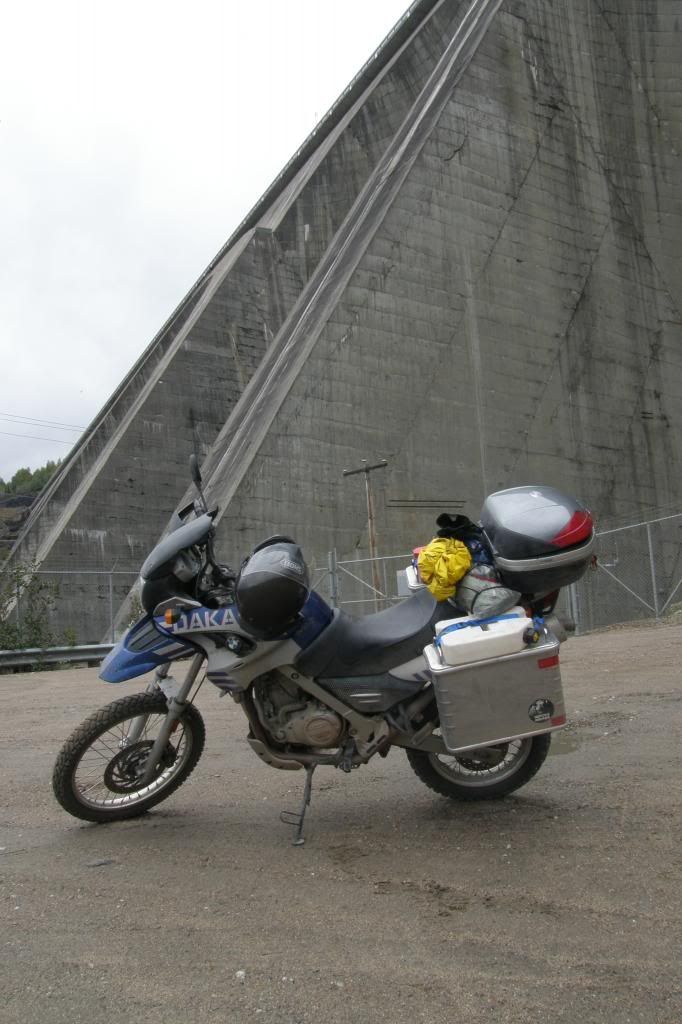 The ride down to ferry was amazing all the twisties made me wish I had my sport bike to ride this section of the road. I made it to the ferry at a bit after 5 so had a little bit of a wait. Once on the other side of the St Lawrence I didn't know how far to ride and it was late so I decided to just go as far as Amqui and get a place to stay. Knowing the ride along the river to Bathurst would be nice to see in the day and I wouldn't have to worry about moose in the dark. With a few stops I made it back to Halifax just after 6. My daughter heard the bike from down the street and was excited to see me. Usually she is nervous when i am in my balaclava or helmet but not today she knew exactly who i was. I put the bike in the barn and the only thing i took off it was the myself and the camera..
In the planning or lack of planning of this trip i was going to go clock wise but due to Gabrielle I decided to go counter clockwise. but the plan always was to blast threw NB. I still go rained on everyday at some point of the day. but a little rain doesnt bother me and I do rather ride in the cooler weather so anything between 5 and 15 in the sun is a great riding day if you ask me. I know the decisions to push on late into the night to some may seem very foolish and is some ways there where but pushing threw long days is always something I have been able to do. Almost a problem I have needing to complete something with out stopping.
Up till now my only real riding partner has been my wife but with the little one we have to chose who gets to even go for a ride in the evenings after work. or one of us will ride to work while the other takes the little one to the sitter. So next year the plan is something with a side car for the little one and maybe do the TLH as a family in much longer than 5 days.. she wants a 2 up ural!
After getting home and laying in bed it dawned on me I did the 510 the last true gravel section of the TLH on friday the 13th 2013.... a day I will not soon forget..