A few months ago, I decided to give retirement a try again, and this time, try to make it stick. To help in this, I decided to take a ride to see the west, which I had never before seen except for out the window of an airplane. My plan was to take a month and just wander to the most awesome places I could find without a schedule.
BOOM! I pulled the trigger on Social Security, learned that I would only get enough to make my Medicare insurance payment, added a thing or two to the FJR(decided to ride this one since I was going to be in the mountains....and it has a Russell Day Long saddle), and set sail on June 1 in the pouring rain.
First planned stop was the Black Hills and Mt. Rushmore. Along the way, I stopped at The Badlands and must say that I-90 is a fabulous road. Very light traffic on a table top smooth road at 90+ mph gets the job done. The new PR4's and Ride On tire balancer/sealer certainly works as advertised.
One of the kind gents at the SD welcome center advised me to go through the Black hills on the loop road counterclockwise so I could see the monument through the tunnels, which was great advice. Along the loop, I stopped to see the Crazy Horse project and was impressed in the effort.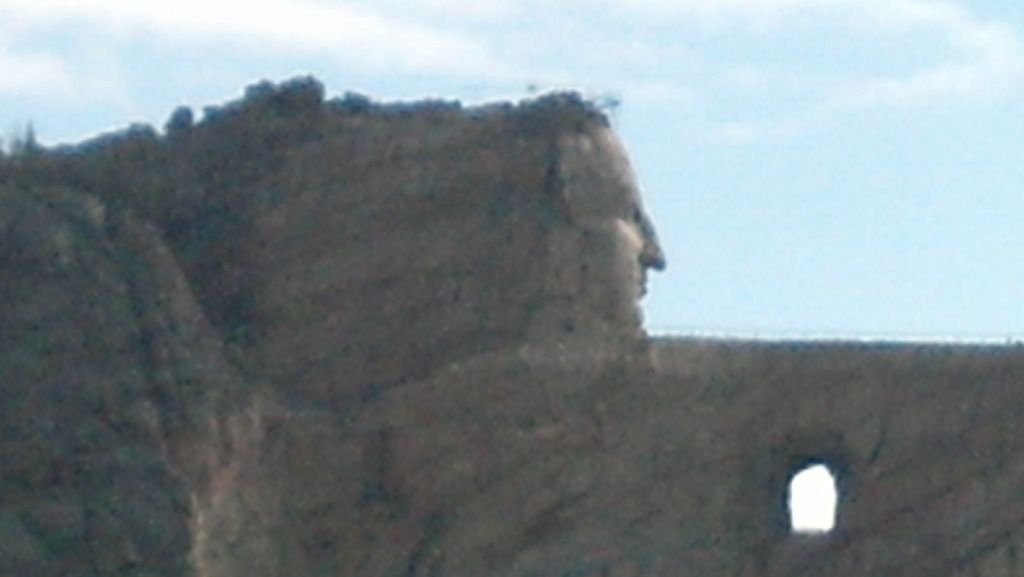 After spending some time enjoying the area, it was time to move on. I decided to make my way to Billings, MT for the next stop, was REALLY tired of the slab, so I decided to take Rt. 212. Working my way up to 212, I passed through Sturgis, SD and stopped just so I could say I was there. Meh.....
So the trip to Billings provided one of the most unique experiences on the whole trip. The road is another beautifully surfaced 2 lane state roads with a 65mph limit where everyone runs at least 75. I was motoring along, keeping up with traffic when I blew by what appeared to me to be a farmer in a UTV towing a trailer with one of the large, rolled bales of hay on it. Since I only saw him for an instant, I thought I thought it rather strange that he has strobe lights on the rear along with a triangle sign indicating a slow moving vehicle.
A few miles down the road, there was an Indian rider pulled off the road with a saddle bag opened, so I stopped to be sure he was OK. He assured me that everything was cool, and he was only taking off a layer of outerwear. As we were chatting, the farmer's rig pulled up an stopped. As he pulled up, the Indian rider said "We have to visit with this one." As we walked toward the rig, I was dumbfounded when I saw a John Deer UTV pulling a beautifully executed, homebuilt teardrop camper!
After a bit of conversation, this is what I learned:
- He is from Effingham, IL, trailered the rig to the SE corner of SD and was making his way to Glacier NP.
-He was planning to then go to the parks in Utah.
-There are only 5 states where a rig of this nature is legal on the roads, and he is planning to "vacation" in them.
-Don shared with us that his rig would run 44 mph, but he just runs it between 38 and 40mph.
The most impressive part of the whole encounter? He's 80 years old! I asked him when he planned to be home and he kind of shrugged and said "when I get there".
This encounter made for a whole new perspective to my trip. I then decided that when I grow up, I want to be just like Don!
From Billings on to Red Lodge and across Beartooth Pass. What can I say? It is spectacular in every way. The show pack on the top of the mountain was about 8 feet deep and the temp was 42 degrees indicated on the FJR. The walls of snow/ice were completely vertical and only a few feet from the road surface, which made for a really interesting effect. Even though the road was great for really tearing through it, I took my time to enjoy the whole experience.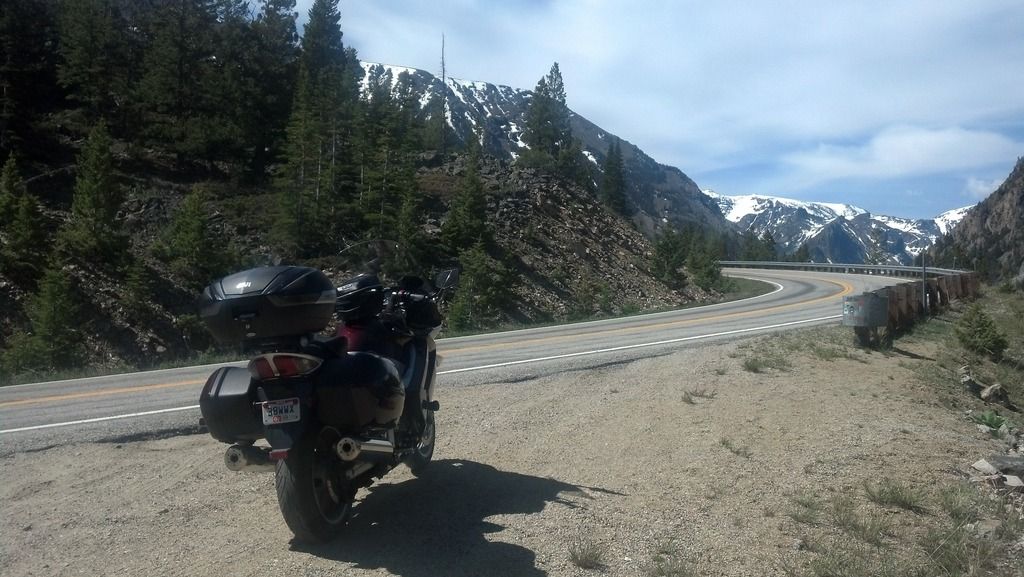 Yellowstone was the next stop, and I spent a couple of days in the area. I stayed in Cody, WY and enjoyed it very much. Cody is a fun little cowboy town where there is a rodeo every night and right next door is Old West Town, a museum of the old west created as an entire town comprised of 26 historic buildings. Rt 14/16 from the east entrance of the park to Cody as well as the Chief Joseph Highway(Rt 296) are beautifully scenic.
The most spectacular thing that I found in the park was the lake. I was shocked at the size of it, the mountains in the distance made for some great viewing.
I went out the south entrance and straight in to the Grand Tetons. Those mountains, with the river in the foreground, are fabulous! I used my left hand technique to take photos as I rode along(Thanks Ferret!)
I rode on through the Tetons and down through the Snake River Canyon, which is spectacular in itself, to Jackson, WY. This is another great little cowboy town with lots of character and a slant toward tourists. I had lunch at the Million Dollar Cowboy Bar and dinner at a second story cafe that afforded me a great view of the town square. Yes, the arch is made of antlers.
There was a western region car show there for the weekend, so I decided to stay overnight to see the cars.
Off to the south of Utah. I had planned to take 2 days to get to Arches NP at Moab, and it was a good decision. I found Moab to be a place that I know I will visit again. I encountered multiple people who were happy to offer lots of information about things to do here. I planned 2 days here and am glad I did. While out looking around, I stumbled upon this: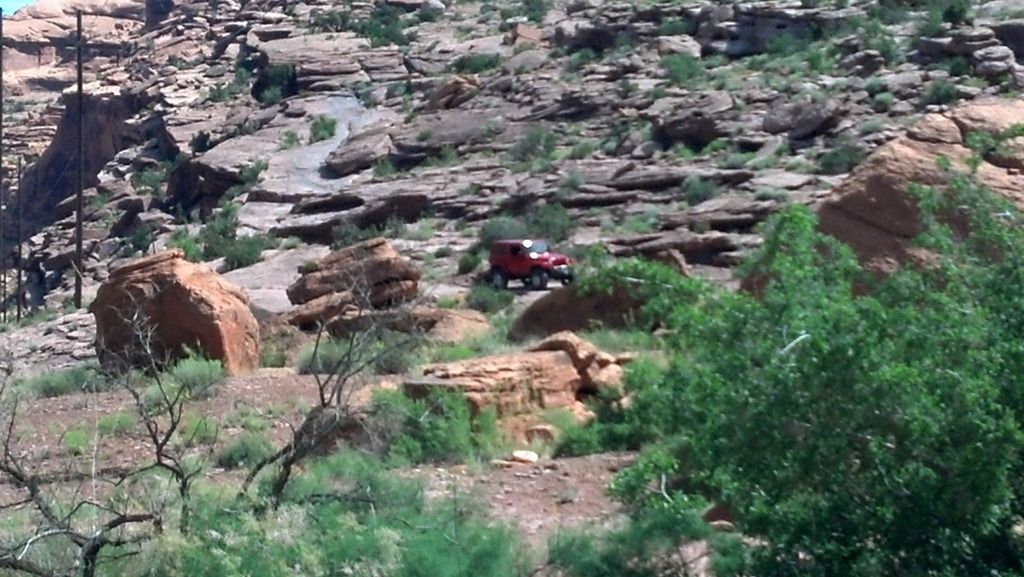 My mind immediately said "I NEED to do this". Next day, I was hooked up with a really cool Polaris RAZR to have some mountain fun. The rental place had 3 trucks and trailers full of fun things to play with. I will go back, and when I do, one of the Bultacos will be with me.
After I left Moab, I went to Canyonlands NP, found it to be more of a hikers paradise, so I moved on to Capitol Reef NP, which was a really nice place to hang around, but not all that different than what I had already seen.
While in Moab, I discovered a really welcoming and educational place called The Brewery. While there, talking with a Colorado River guide, I learned a couple of very excellent things. They were to ride out the Colorado River Canyon, if for no other reason, for the scenery, but to have lunch at the winery, and to ride to Bryce via the Grand Staircase-Escelante(Rt 12). Both very excellent suggestions. I took some photos of the winery where I had lunch, but there was no way I could do anything but concentrate and be astounded on Rt 12. There were multiple mountain passes where riding on the ridge was the order of the moment. 2 lane road, 2 foot berm, no guardrails, and a 500 foot drop on either side. How very scenic! I enjoyed the moment immensely with the images burned in my memory. Yes, I will go back.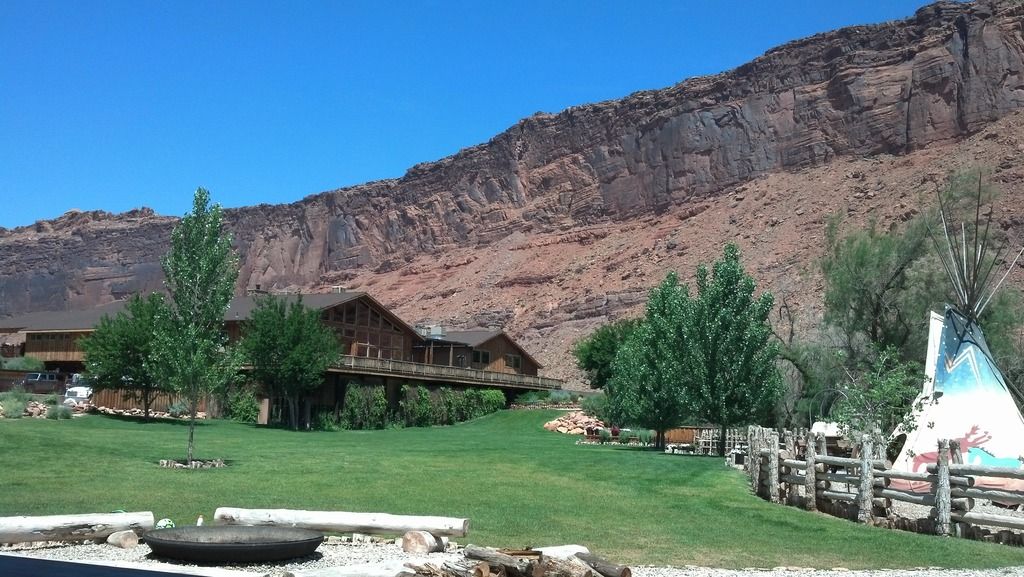 On one of the back road trips around Moab, I ran across some really cool petroglyphs.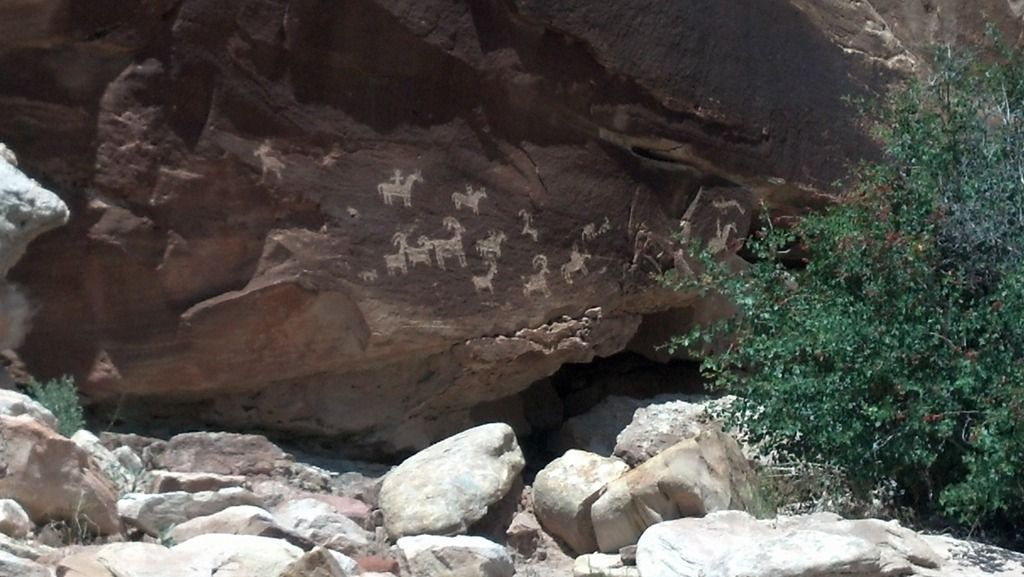 Coming in to Bryce Canyon, I got held up by road repairs, and got hammered by hail. No time to get the rain gear out. My knuckles took a beating, but I dried out quickly.
I stayed at Ruby's, a really cool place, albiet a bit pricey, and enjoyed my stay. I took the bus tour through the park, and Spike, our bus driver/guide had been a Pepsi driver for 20+ years, and knew the park area very well, with lots of great information. The free bus tour is well worth it.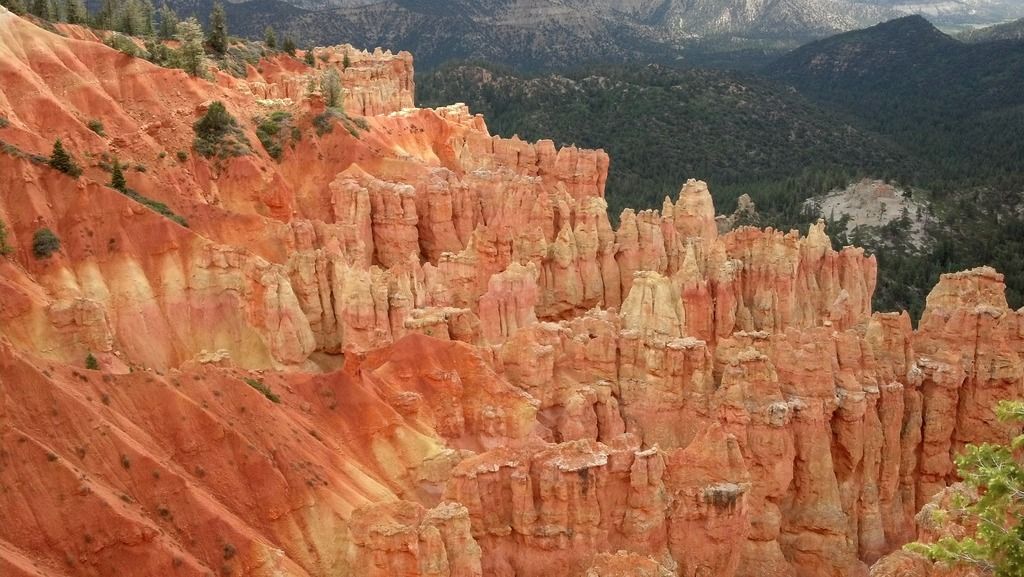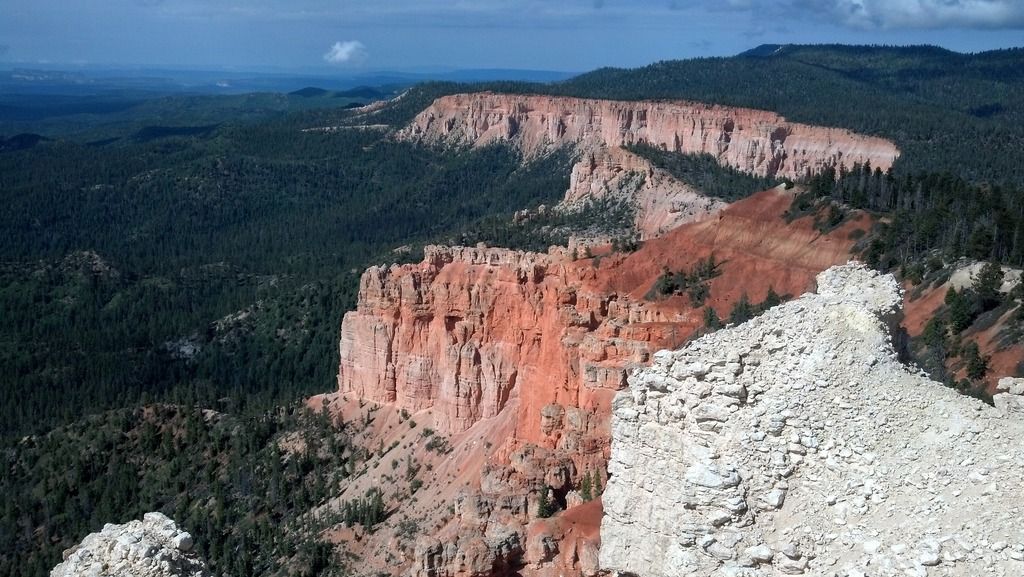 Do you see Snoopy on his doghouse? This is a "whodoo"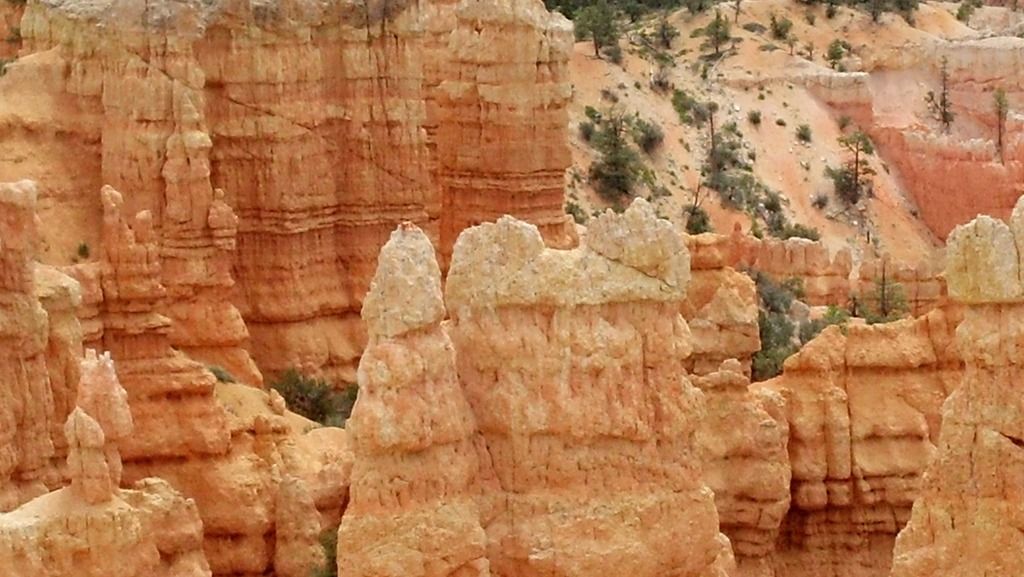 On to Zion NP. What spectacular sights! The rock formations are quite different for what I had already seen and just huge! This park is a "must see" for anyone contemplating a trip near the area.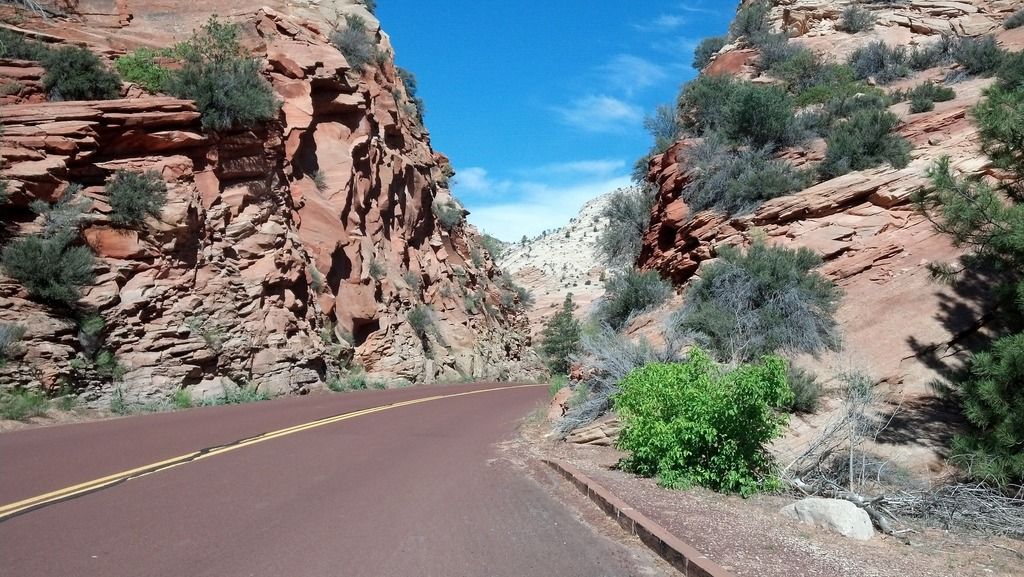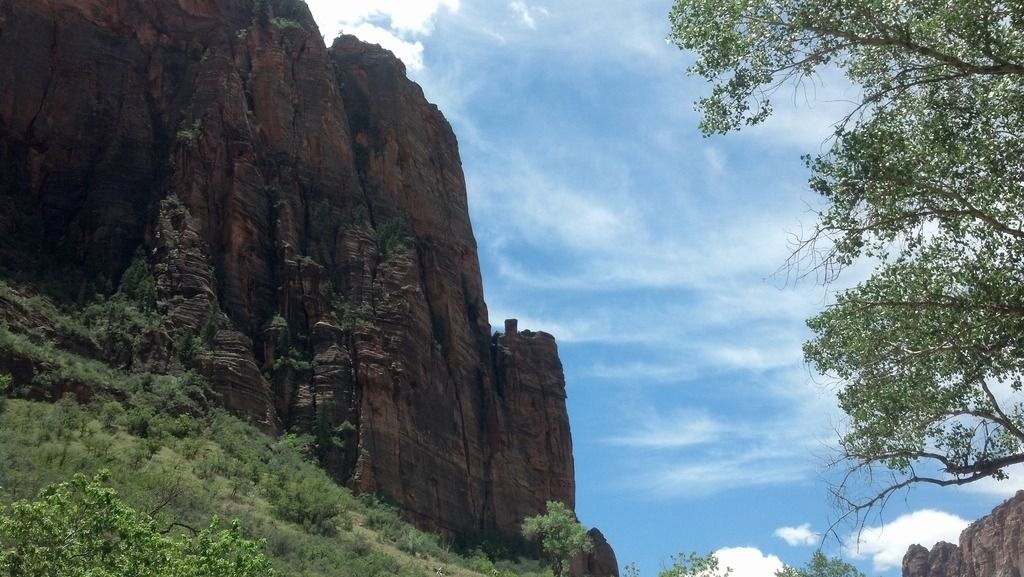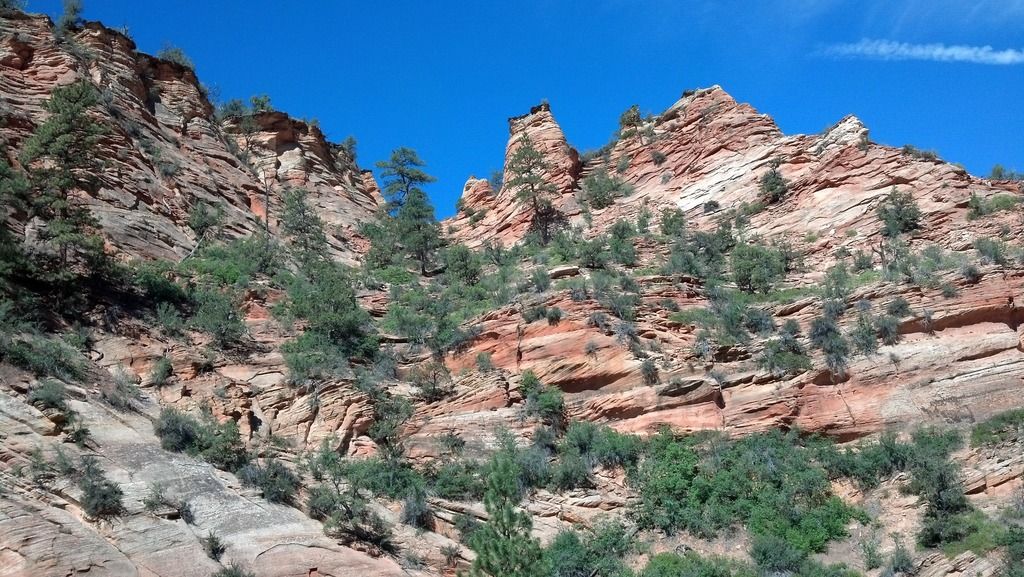 Next installment: Arizona and New Mexico