My brother and I haven't gone on a motorcycle trip together in over a decade. He had an 1100 Goldwing and I had a VT700 shadow. We rode out to Colorado and through the mountains during the summer of 2001. Since then, we've both gotten married and had kids. My brother (we'll call him Mat cause that's his name) sold his goldwing quite some time ago and I've sold the '86 Shadow and upgraded to an 1100.
A couple of years ago, Mat got an 1800 VTX and we've talked at length about getting together to do a ride. We've come close to making something happen several times, but we've both got young families and something always seemed to come up.
Well, he got his orders and he's going to be getting shipped back to the desert for the first 6 months of 2015, so we decided that this summer we'd go for a ride. Any ride. Neither of us have time for an epic adventure, but we decided that we needed a long weekend for a ride a were determined to make it happen this time.
This probably won't be much of a write up and will probably mean little to anyone who wasn't there, but I wish I'd taken the time to write up a report after our last ride - I'd love to read a report that was written after we had gotten back.
The initial plan was a very loose one. I was going to meet Mat at our dad's place in SW WI and the three of us were going to just head north and see what we could see in 4 days. We tried to decide on routes and plan for campgrounds, but as we got closer, the weather looked more and more suspect. We decided that there was no guarantee that we'd be able to put on any sort of miles any day, so we decided to just wing it.
Right off the bat, my plans went sour. I was going to trailer my bike the first 200 miles from my place to my inlaws' place to drop my wife and kids off there. I thought it'd be a good weekend for grandma and grandpa to spent time with the kids as well as help out my wife. Well, my inlaws are the busiest pair of retirees I've ever met - and wouldn't you know it they had plans and wouldn't be home to help that weekend. So, the good news was that I'd get an extra 400 miles of saddle time on the trip. The bad? Not only was I leaving to have fun but I was leaving my wife to fend for herself with the 3 kids. Obviously I was not a popular guy when I left - but we weren't cancelling again, dammit!
I took off Wednesday after work. I had planned on leaving earlier - but I had to get the pool ready so the kids would have something to do all weekend. So, vaccuuming, skimming, chemical checks and PH adjustments later, I was loading the bike and heading out.
I made it to WI without a hitch. It was a nice drive - though a bit rushed. It turns out that I really can't expect much for mileage when cruising at the plus side of 80 MPH. I knew the milage would suffer - but I was a bit surprised that I had to hit reserve at just over 100 miles. I normally get close to 50 MPG - I got just a shade over 30. Ooops!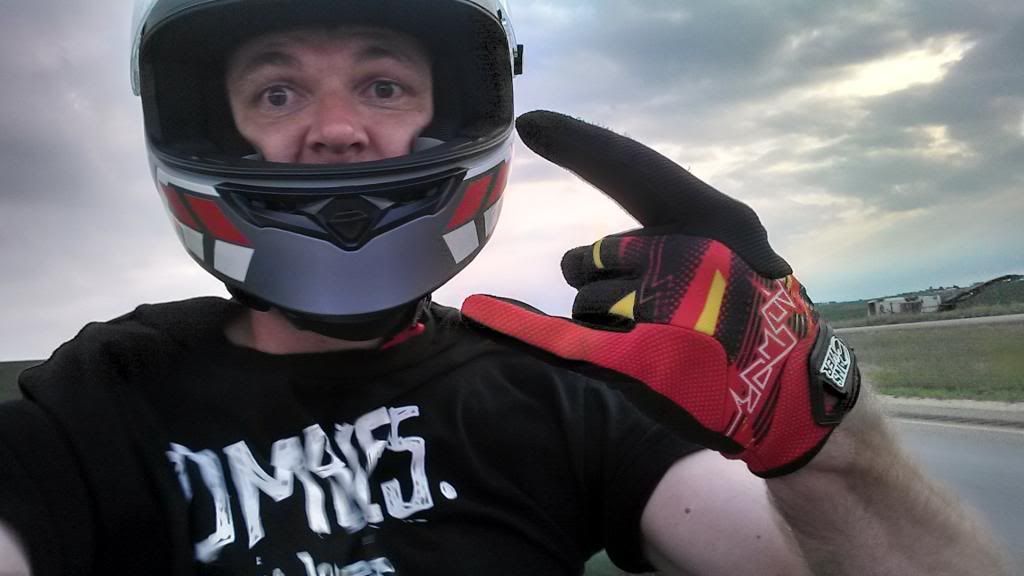 I met my brother at our home town bar at right around 8 PM. We had a quick beer and headed to my dad's place for supper and some last minute planning.
Mat's VTX fully loaded: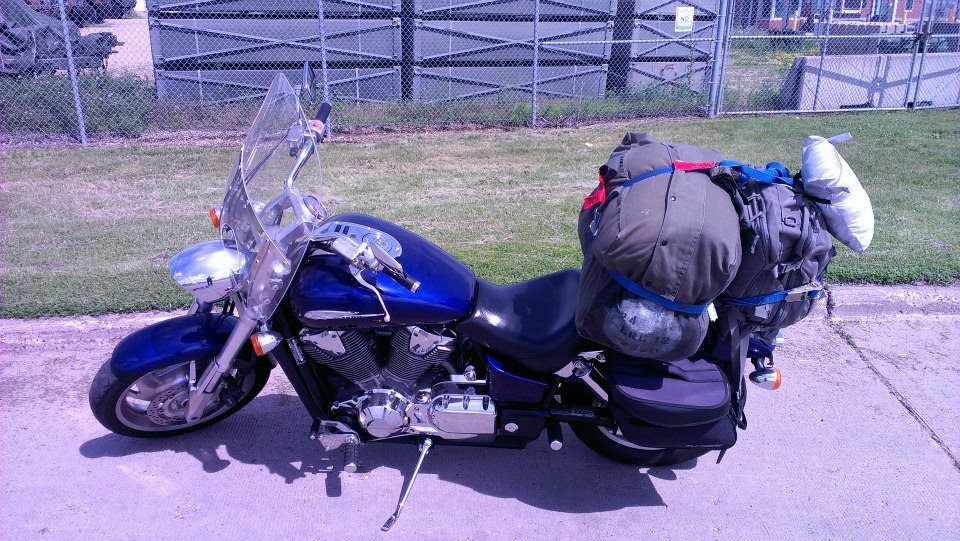 Thursday morning did not look good. I pulled out my phone and saw a huge storm moving fast from the west. This was 5 AM, so I thought I'd get a bit more shut eye and check again in a few hours.
Of course I couldn't sleep, so I kept checking the weather. The front hit the Mississippi river (we were staying about 20 miles East of there) at about 6 AM. At 7, the storm completely stalled out over the river. By 8, we were all awake and facing a decision. Do we chance it and go north like the orginal plan? Or do we head south and figure something out? The weather was still stalled out - short of a narrow band extending East right around Madison - so we decided to head to McD's to get some breakfast and meet up with our 4th intrepid traveller. He goes by Mowree here on ADV and has been a friend since high school. Most trips he and I go on are on our dual sports - but this was all about my brother, so he brought his Yamaha Stryker since there was little chance of leaving pavement on this trip.
We all met up at a gas station in Platteville WI and got down the road some where around 9:30 AM. We stuck to two lane blacktop and tried to hit as much twisties as we could through the driftless area heading north. Our 1st gas stop was just North of Lone Rock WI. That's where Mowree noticed that his brand new sleeping bag was no longer on the back of his bike. Much like me, he was saddled with last minute honey doo's before he left and was in a bit of a hurry strapping stuff to his bike. We were trying to decide what to do or how far to back track when we came to the conclusion that Mowree's sleeping bag never made it to Platteville. My dad was following him the entire way from Platteville to Lone Rock and certainly would have noticed a sleeping bag sized piece of shrapnel heading his way. We decided there was no chance of finding it, so we headed on out.
It threatened to rain all day - but we never saw more than a drizzle. Went got to Necedah for our next gas stop. We tried to find as many local diners to eat at and there was much in Necedah. We found a diner and the food was awesome. I had a giant bacon cheeseburger.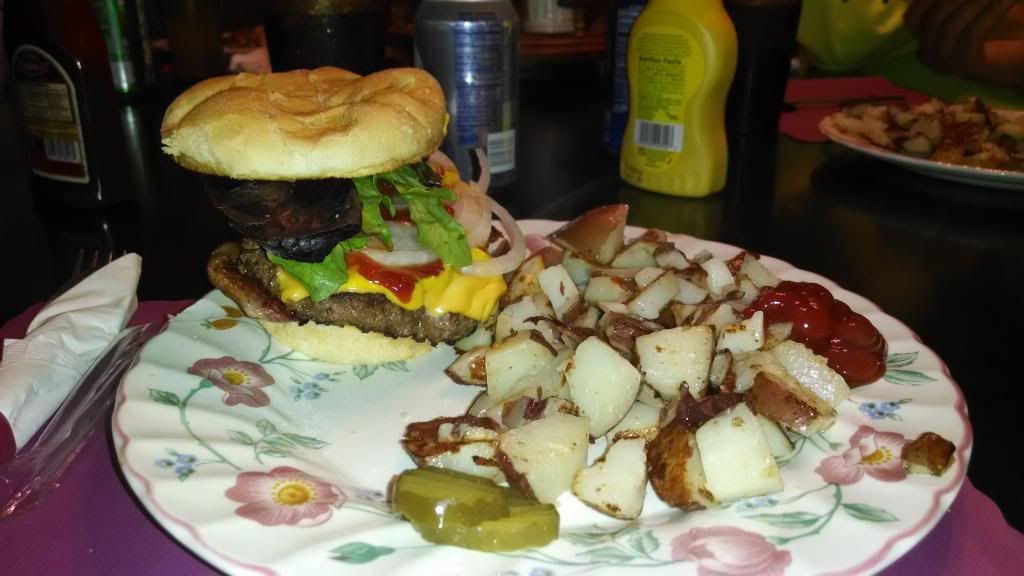 We were getting a bit too comfortable as the weather that had been chasing us all day caught up to us while hanging out there digesting. A check of the radar ( how did I ever survive without a smart phone?!?!) confirmed that if we pushed north, we get back ahead of the weather. That's just what we did.
As we rolled through Pittsville, we learned some very important things - I wish I could have gotten pics to illustrate
1. shrink wrap makes a fancy sign when stretched between signs/tree trunks/fence posts
2. Pittsville has a team called the Jaguars
3. The Jaguars made state.
4. In Pittsville, when your team makes state, everyone comes out in the streets to welcome them home
5. The team was getting back to the town at the same time we were rolling through.
We got to see the team roll in with a police/fire truck escort and we felt proud to have been a part of that - honking and waving to welcome them home and offer our congratulations before heading on North.
We had just gotten through the most of Marshfield when I worked my way to the back of the pack. I wanted to check on Mowree and see how he was holding up. This was the first time he'd put any miles on the Stryker and I just wanted to see how he was doing. We pull up side by side at a light, and we no sooner get stopped than he asks, "how's my back tire look?". I've got a pretty well calibrated eye, and to the nearest PSI, I estimated he was holding about 3 pound of pressure in there. I answered him, "FLAT!" and scooted to the front of the pack so my dad and brother could follow me into the next pull off to investigate.
Sure enough, Mowree had picked up a nail. This is where it's handy to ride with a goldwing. My dad pulls out his tool kit, and we get to work. We should have pulled out a stopwatch cause we would have made an indy pit crew proud. In no time at all, we had the tire plugged and the air compressor pumping.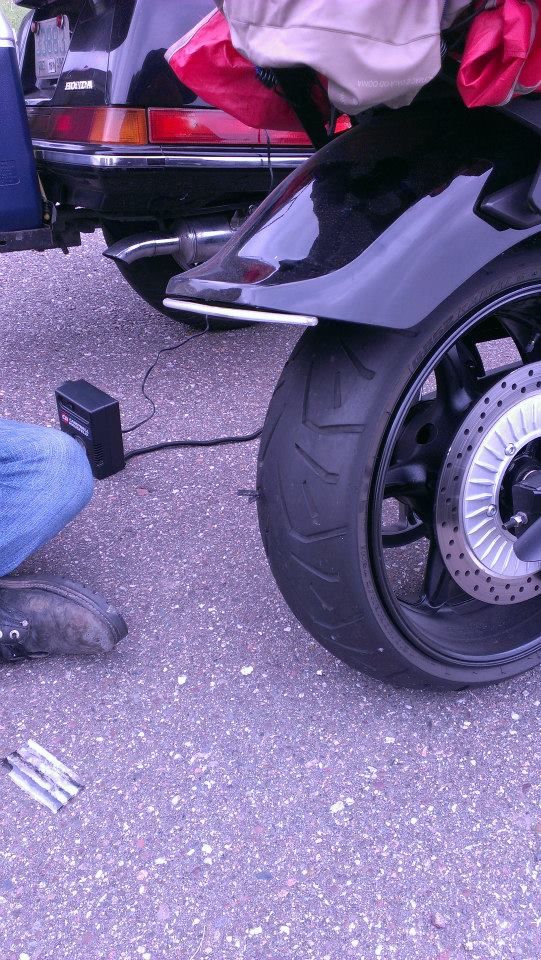 We decided to just keep a close eye on his air pressure and leave it up to Mowree whether or not he trusted the plug or if we search for a replacement. Considering that his low profile tire can run flat. While it doesn't handle well, it won't explode catastrophically either. Truth be told, I sorta forgot about it and after checking his pressure a few more times that day, we just sorta let it go.
We made it up to Chequamegon National forest and decided that we had made it far enough found a campsite. We hadn't packed anything but cheese curds and beer, so we decided to find a bite to eat. Easy decision since there was a Bar and Grill in Perkinstown a few miles up the road - and nothing else for a good hour in any direction. So, we set up camp, unloaded the bikes, and headed back to PTown. First, a stop for gas and firewood at the gas station, then on to the bar. They had spotted cow on tap and some of the best home made pizza I have ever had.
I managed to get photobombed by a giant Elk: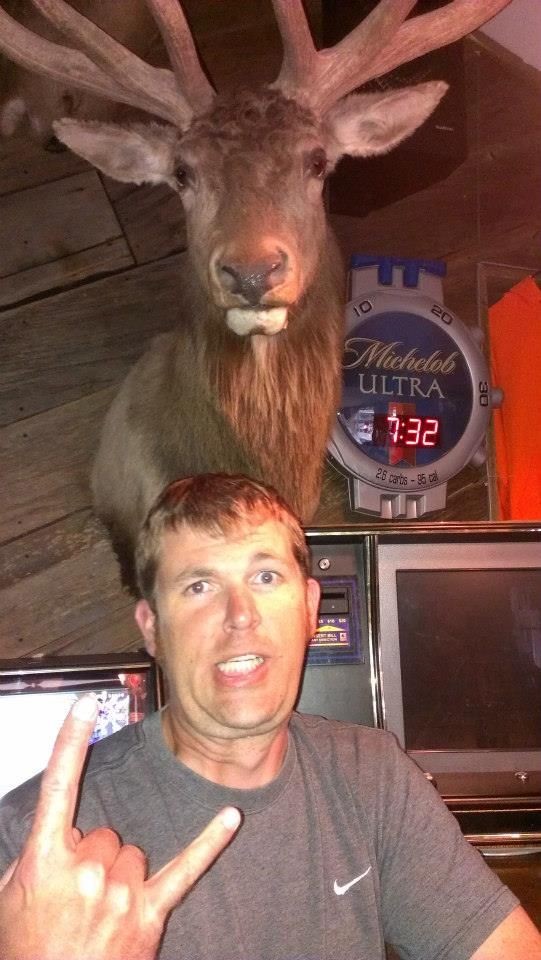 A few beers (and way too much pizza into the night) we see this group of guys come in. One guy stands out - camo shirt with the sleeves cut off. He's tough to describe, but I called my brother's attention to him and suggested that he was going to be trouble. Well, he bellied up to the bar with a healthy thirst and we ended talking to him a bit while we finished our pizza. We settled our tab, and headed out. This guy follows us out. He asks how long we're camping and whether or not we'd like to follow him to his house and load up on firewood. I'm not sure if it's paranoia or situational awareness, but IME, people don't just offer to give strangers stuff. So, we followed him, but I was a bit nervous about it.
But, there were 4 of us and one of him. What's the worst that could happen? Well, I feel a bit bad - turns out the guy's name is Jesse, and he is just a nice guy and a fellow rider. He's got a sweet, hand built bar in his garage along with a sweet vintage XL350 and Springer Softail. After a tour of his garage, we load up his pickup with wood and drive back to the campsite. It's after dark, so he was kind enough to lead and run interference against all the "gummit beef" that likes to run out in front of bikes at night. Jesse was full of quotable lines - and I wish I would have written down more of them. Gummit beef is of course deer. And as it turns out, the technique for using a napkin to start a campfire is, "Napkining the shit out of that muthafucka". I was glad to have met Jesse and am thankful for his hospitality. Once the rain started, he headed out and we called it a night.
I'm happy to say that my hammock kept me high and dry night one and I had a great night's sleep.
More later on day two.