I think the system works great. Would I say its better than hyperlites, well I don't know, I had a set of those on my last sport bike, they were fine too.
But these are great and I love how easy it was.
It was pretty easy but here are a few shots for those thinking about it.
First wires
KTM P3
Brown (GND) -> Black
GreenWht (BRAKE) -> White
White (TAIL) -> Red
Brown (left) -> Green
Brown (right) -> Yellow
Now the colors on the lights might be yellow and blue - but on mine both are brown and black (ground) so you tap both browns with the positaps.
Remove Seat
Remove rear passenger grips (at least the top bolts)
Remove the cargo holder (other two bolts and its off)
Remove the rear brake light (2 lock nuts 10mm under rear)
Remove license tail light (2 locks nuts ?mm)
Pull up on the two wire retainers under the far back seat area going back into the tail area. Those pop out and push them back down the cable bundle. I had to cut 3 cable ties (right under cargo, and two for turns that bundled the turns to the main cable).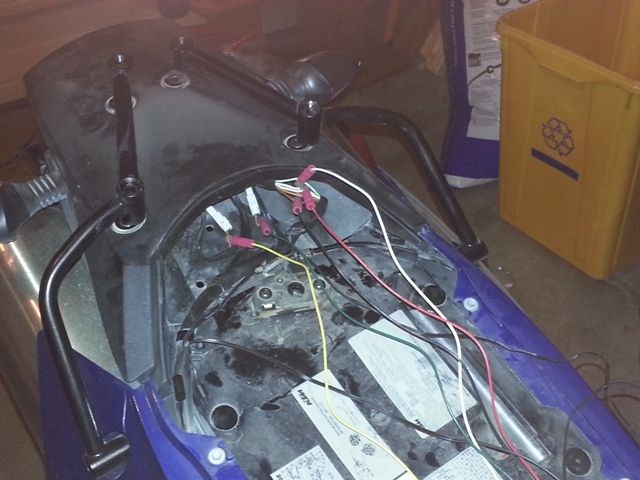 My plan was to put the whole thing right into that far back area. It fits great. You can see the taps for all of the lines. The main cable bundle has the brake, power and ground. You only need to tap the turns for the left and right as you can see above.
I wanted to put the two lights on the sides of the license light like this...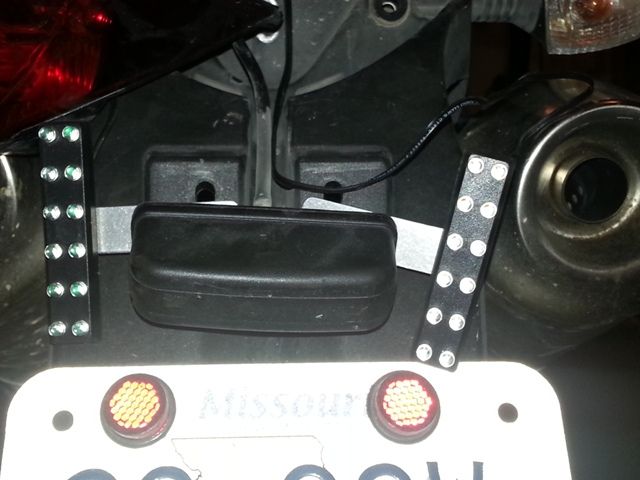 So I ran the wires from the LEDs under the light and up that channel that runs under the cargo area and back to the seat. There are two perfectly spaced bolts leaving this light. Just rotate your LEDs and tighten them. Make sure to run your wires UNDER the light and up the channel.
The channel under the cargo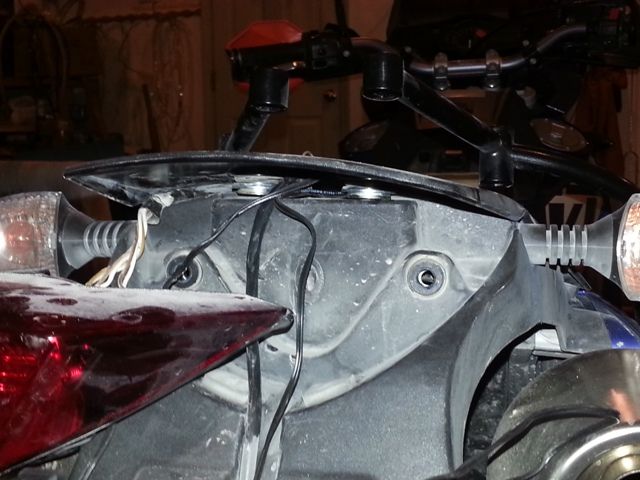 Make doubly sure all wires are tapped and run correctly. Turn on the bike (no need for engine) and verify all lights prior to putting everything back together. Once you got it all working reinstall the license light with the wires under it and the LEDs are tight. Check channel binding and reinstall the brake light, then the cargo bolts and hand holds. Tie bundle up the rear seat wires and re-seat those two popup retainers. I used Velcro on the unit to hold it to the upper area back there, but you might think about actually going ahead and drilling into the plastic area under the cargo holder to really hold the unit off the wires. I do a lot of off road so Velcro is probably not so great.